Obedience & we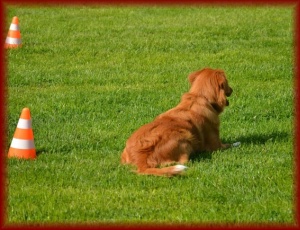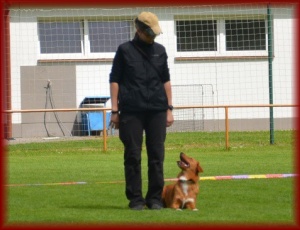 Our beginnings and present
My first dog, who I started to train more difficult obedience with, (not just basic and classic training of sit, down which was also my case when I was training this with my oldiest bitch of golden retriever Jenny), was Labrador retriever Atrey Joy in motion.
Labrador retriever is a hunting dog so our training was firstly led in that direction. It was preparation for breed exam OVVR for verification of innate talents of retrievers, but also hunting exams as field trials, Autumn exam of small breeds and Autumn exam of retrievers.
But, in 2009, when Atrey was 2 years old, we have started to train obedience with Danka Tóthová and some other dog handlers. From this innocent basic trainings, we have started to prepare ourselfs for competitions in Obedience. Gradually we have been learning new tricks and exercises how to prepare a dog for this especially difficult exam.
Me and Atrey was competing and taking part in competitions between years 2009-2011, and we successfully passed exams in classes OB Beginners and also OB 1.
In year 2011 I started to prepare my second dog, a black labrador Tintagel Winds Yakety Yak, Yaky for this exam, and we also competed in Obedience in next season. Due to his not really good health for competing, we had to finish our season and participating in competiitons. Besides everything, Yaky was very teachable and clever dog, we passed together exams in classes OB Beginners and also OB 1.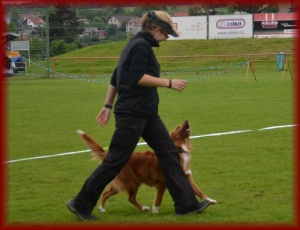 I fell in love with this sport, but to have better results, I needed years of experience and skills, eliminating bunch of mistakes which always appear when you try something new.
In 2012 we bought a new girl of Nova Scotia Duck Tolling Retriever, Dragonflame´s Spread Your Wings, Finnie, who we chose just because of Obedience. We wanted to stay with hunting dog, retriever, but we were searching for something smaller, lighter and faster than labrador, convenient for sporting purposes and competing in Obedience. So we found it. I have started to train her wit the method of clicker training which brought the desired results. Since 2013 we have actively taking part in competitions in Obedience where we get very nice results. In the present, we have already passed exams in classes OB Beginners, OB 1 and OB 2 and we are slowly preparing ourselves for highest class OB 3.